The choice of monofocal IOL has become easier
Tecnis Eyhance - more opportunities for active life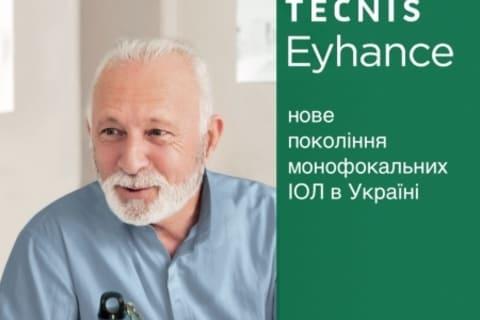 When you face the problem of choosing IOL for cataract treatment and choose monofocal type, another question arises - how to choose among more than 30 IOL models presented in Ukraine?

American, European ... or some cheaper like Ukrainian or Indian? And if you choose European IOL, which one is better German, Hungarian or French... Or maybe put an American one? Should I choose a transparent lens or believe that the yellow color of the lens will not bother me much day and night and it will somehow help to protect eyes from an obscure danger? Or should I choose some famous brand like Zeiss, Alcon or Johnson & Johnson?

There are so many questions. And now the answers have become easier.

Ordinary monofocal lenses provide good vision from a distance of 2m and farther. And the closer the object is, the more blurred it becomes. This feature of monofocal lenses makes many daily activities uncomfortable or even dangerous without glasses.

Johnson & Johnson VISION Company has released a new generation of monofocal IOLs - TECNIS Eyhance, which unlike any other monofocal IOL provides improved intermediate vision.
This newest monofocal IOL, like the usual one, gives excellent distance vision and also provides improved intermediate vision without glasses.
Subscribe and learn 15 secrets to help keep your eyesight