How to choose a lens or IOL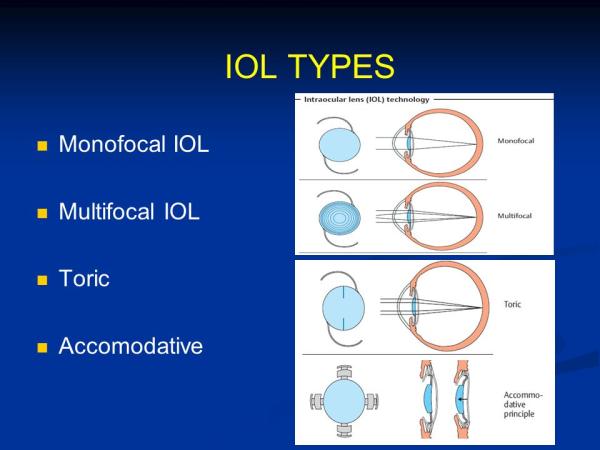 An intraocular lens (IOL) is an implanted artificial lens, which is placed instead of a clouded lens during cataract removal. However, the structure of the lens has the other side of the coin, namely — it is not able to regenerate and restore its transparency when it becomes cloudy. Meanwhile, cataracts are one of the most common causes of vision loss, especially in adults.
IOLlens can be defined as artificial lenses (usually made of acrylic, silicone or plexiglass) that are implanted to replace the lens that has become clouded by cataracts. IOLs lenses are also successfully used in the treatment of patients with presbyopia, in which the lens causes problems with focusing at close distances due to the loss of its elasticity. It is a fact that in 2%, an optical lens causes several types of complications:
swelling of the cornea;
increased intraocular pressure;
progression of cataracts;
displacement of the implant.
IOL types are different. The types of artificial lenses vary in flexibility. They are hard and soft. An artificial eye lens implanted in a patient with astigmatism cannot restore the eyesight of an ordinary person. This is because the defect in the cornea (astigmatism) is removed with special glasses. The toric iol lens was developed to address this problem. Like standard iol lenses, they can be mono- or multifocal.
Trifocal iol lenses have not one, but three focuses — for near, for medium distance and for far distance. The patient can permanently get rid of glasses and contact lenses. A person sees perfectly in any situation, at any level of illumination.
How to choose a lens
IOL lens selection is based on a thorough analysis of visual dysfunction after high-tech diagnostics of the organ of vision. The doctor assesses the condition of the anterior and posterior chambers, cornea, lens, vitreous body, retina. If implantation of an accommodating iol lens is planned, then the non-functional natural lens is removed and an IOL with the necessary refractive parameters is inserted in its place.
The calculation of optical characteristics is carried out using a non-contact optical biometer, which guarantees the correct selection of lenses with complex geometry (multifocal iol lenses and others). For example, for many, it is important to correct distortions that occur in changing lighting conditions (drivers, military, security guards, etc.), so an aspherical IOL lense will be preferable for them over a monoblock lens.
Is this necessary to follow-up cataract surgery after IOL lenses implantation?
Recurrence of the removed cataract is impossible, since the disease affects the lens, which is replaced by iol lenses for cataract. Some patients may experience clouding of the posterior lens capsule that holds the implanted lens in place. It is interesting how long do iol lenses last? Unlike prostheses, which need to be replaced again after 15-20 years, an artificial lens does not need to be replaced. IOL can provide high visual functions for life.
According to generally accepted standards, iol lenses can be replaced only if there are unconditional indications. Vast experience in the implantation of best intraocular lenses of any modifications, unique equipment of the latest generation, tracking modern trends in this area are the basis for safe, comfortable treatment with minimal risk of side effects in the long term.
Subscribe and learn 15 secrets to help keep your eyesight