Eye exam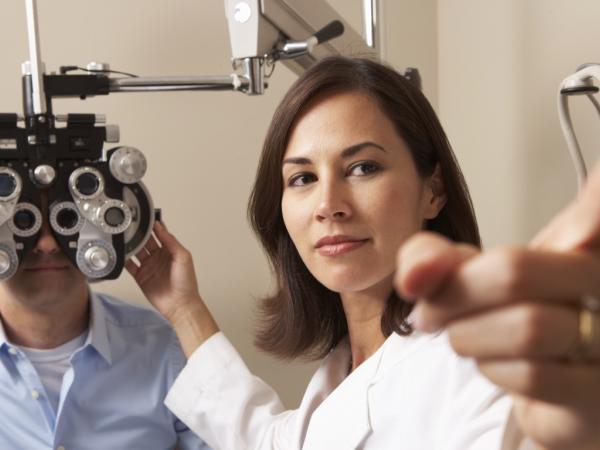 Regular checks of your vision are imperative for keeping your eyesight acute and your eyes healthy. Even if you are not noticing any signs of deterioration, don't postpone the visit to an ophthalmologist. However, if you feel that your vision gets worse, it is recommended to immediately schedule a meeting with an eye expert. To gain peace of mind before going to a clinic, it is also advised to learn what the eye exam procedure looks like, how a doctor will make an assessment to detect and diagnose vision injuries and defects, and how to understand and decrypt your prescriptions for eyeglasses or contact lenses.
What the eye doctor does during an eye examination
Every patient of a specialist should expect a series of medical tests conducted to identify if there are refractive errors. The specialist's key tasks during the procedure are:
to provide a routine extensive examination;
to conduct a range of tests, e.g. retinoscopy or a refraction eye exam, depending on patient's complaints to determine eye-related troubles;
patients who are experiencing age-related symptoms must additionally undergo an intraocular pressure measurement to spot if there is a risk of glaucoma;
based on obtained results and data, the health care specialist must come up with a personalized treatment solution (glasses, lenses, surgery).
Common eye exam procedures
To detect astigmatism, an eye doctor may apply various medical tools (for example, a refractometer that measures a refractive index) or ask a patient to look through different lenses types.
For testing your distance, as well as near, vision acuity, a specially designed chart that is fixed at a specific distance will be also applied.
If some defects or physical irregularities will be identified, a doctor, using a diagnostic instrument, known as a phoropter, will define how to correct a patient's vision and individually will prescribe lenses or glasses.
How to understand the results of an eye exam
Decoding the ophthalmologist findings, you will be capable of understanding and analyzing the refractive error degree and the degree of impairment of your vision.
For example, having +0.25 on your test means you have mild hyperopia. Receiving more than +5 is about the farsightedness of high intensity, and such a condition requires immediate correction to restore the quality of vision and life.
When it comes to reading eyeglass prescriptions, you must be aware of the axis indicators. This number may range between 1 to 180. Another number that the medical instruction provided by doctors may include is cylinder measurements. It allows analyzing the lens power that is needed to fix a condition when you have deteriorated both near and distance visions.
To specify information for the left and right eye, usually, such abbreviations are used:
to find details about the left eye, look for OS abbreviation;
OD letters are used to denote the right eye.
A range of other data may be included in the results, so it is of high importance to gain comprehensive diagnosis, consultation, and advice delivered by knowledgeable and proficient experts in a reputable clinic.
Can you buy contacts based on the eyeglass prescription?
Prescriptions provided by an eye specialist for your glasses must be used only for purchasing glasses. It cannot be used as a prescription for contacts. If you've received medical instruction for buying glasses but want to start wearing lenses, the data indicated in the prescription must be accurately and properly re-calculated. Otherwise, you will get poorly suited lenses. It will not fix your defect but will exacerbate the issue, so you may feel a high level of discomfort.
Luckily, there is no need to visit your doctor, as you can use the spectacle modification calculator available online that assists in converting available parameters for gaining accurate results for your lenses
Subscribe and learn 15 secrets to help keep your eyesight