Clinically Significant Macular Edema (CSME)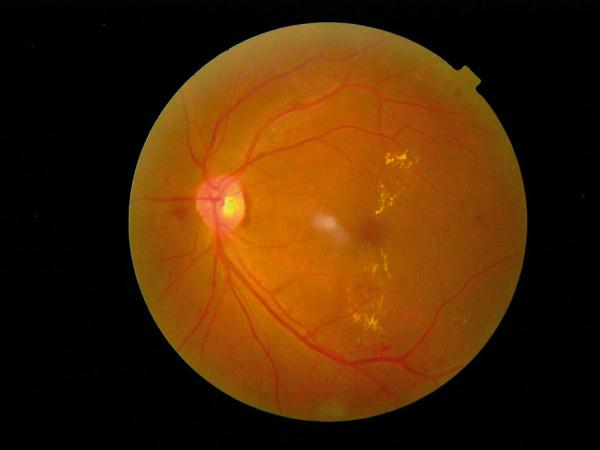 The macula is the pigmented central part of the retina, which is responsible for human visual acuity.
Patients with diabetes mellitus (DM) have an increased risk of affecting the retina, especially the macula, which is its thinnest area. Diabetes mellitus affects the vascular wall, which leads to fluid seepage and accumulation under the retinal layers. The macular region tends to accumulate more fluid, causing its detachment from the adjacent structures. Because of this, there is a lowering in a patient's vision. This condition is called clinically significant macular edema (CSME). It forms quite slowly, but progresses over time and is difficult to treat.
Clinically significant macular edema was introduced after the publication of a multicenter, randomized clinical trial investigating early treatment for diabetic retinopathy (ETDRS). The diagnosis of CSME is made when the patient has one or more of the following:
Any retinal thickening at or within 500 µm of the center of the macula.
Solid exudates within 500 µm from the center of the macula, with retinal thickening present.
Thickening of the retina within an area of ≥ 1 one optic disc, any part of which is within 1 optic disc diameter from the center of the macula.
Risk factors for CSME:
Long-term diabetes mellitus.
Poor control of diabetes with chronically elevated glycated hemoglobin (HbA1c) levels.
Hypertension.
Hyperlipidemia.
Kidney diseases.
Clinical symptoms
Clinically significant macular edema can be asymptomatic. But the most common signs of this pathology are:
Decreased visual acuity (usually there is a moderate loss of vision when compared to severe vision loss after vitreous hemorrhage or retinal detachment in the macular area, which occurs in proliferative diabetic retinopathy).
Metamorphopsias (impaired visual perception of the size and/or shape of objects and space).
Diagnosis
The complex of studies for establishing the diagnosis of CSME includes a study of visual acuity, slit-lamp examination, optical coherence tomography (OCT), and fluorescent angiography (FAG).
CSME treatment
Current treatments for clinically significant macular edema include:
laser photocoagulation of the retina (focal laser photocoagulation for local edema and macular grid for diffuse edema);
modern 2RT laser therapy;
pharmacotherapy (intravitreal injection of anti-VEGF drugs (ranibizumab, aflibercept, bevacizumab), steroids (intravitreal injection of Triamcinolone, Ozurdex- Dexamethasone 0.7mg biodegradable implant);
vitrectomy;
combined therapy (ranibizumab + laser; steroids + laser).
Subscribe and learn 15 secrets to help keep your eyesight